Celebrating American Stories, American Lives
April 27, 2023
6:00 p.m. - 9:00 p.m. ET
Fairmont Copley Plaza, 138 St. James Ave, Boston, MA
D. Brenton Simons OBE
Ryan J. Woods
Registration for this event is now closed. If you'd like to be added to our wait-list or have questions please contact Kelly Neagle at kelly.neagle@nehgs.org or 617-226-1215.
Annual Family History Benefit Gala
Featuring Secretary Lonnie G. Bunch III in Conversation with David M. Rubenstein
Lifetime Achievement Award Recipient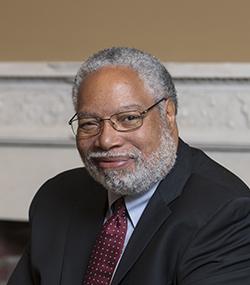 Lonnie G. Bunch III is the 14th Secretary of the Smithsonian, an American educator, and historian. As Secretary, he oversees twenty-one libraries and twenty-one museums including two new museums under development representing American Latino and Women's History. He was founding director of the Smithsonian's National Museum of African American History and Culture. He has authored and co-authored numerous articles and books, including The American Presidency: A Glorious Burden; Call the Lost Dream Back: Essays on History, Race & Museums; and Slave Culture: A Documentary Collection of the Slave Narratives from the Federal Writers Project. In 2019, Secretary Bunch was awarded the Freedom Medal from the Roosevelt Institute, the W.E.B. Du Bois Medal from the Hutchins Center at Harvard University; and the National Equal Justice Award from the NAACP's Legal Defense Fund. In 2021, he received France's highest award, the Légion d'honneur.
In Conversation With
David M. Rubenstein is co-founder and co-chairman of the Carlyle Group, an author, and philanthropist. He is chairman of the boards of the Kennedy Center for the Performing Arts, National Gallery of Art, Council on Foreign Relations, Economic Club of Washington, and University of Chicago; and a former chair of the Smithsonian's Board of Regents. He has authored two books focused on America's unique history: The American Experiment: Dialogues on a Dream and The American Story: Conversations with Master Historian. His most recent work is How to Invest: Masters on the Craft. For his monumental impact in the field of preservation, Mr. Rubenstein was the recipient of our Preservation and History Award in January 2022.
Fairmont Copley Plaza, Boston
42.349065414475, -71.0761742