Executive Office
D. Brenton Simons
President and CEO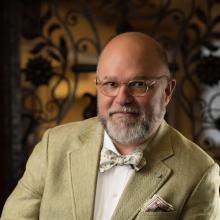 As President and CEO since 2005, D. Brenton Simons has overseen a period of extraordinary growth for American Ancestors/New England Historic Genealogical Society. It now serves more than 415,000 members in 139 countries and millions of online users. It provides more than 1.4 billion records at American Ancestors.org, is anchor location of the popular PBS series Finding Your Roots with Henry Louis Gates, Jr., and will expand its campus into a newly renovated building Boston's historic Back Bay in 2023.
For his work in nonprofit leadership and as an author, Simons has been recognized with several honors, including the Award of Merit (American Association for State and Local History), the Bradford Award (Pilgrim Hall Museum), the John Adams Medal (Massachusetts Society of the Sons of the Revolution), and the History Award Medal (Daughters of the American Revolution).
"Connecting people everywhere to the past, showing its relevance today, and learning from it is a great honor and privilege for us here," says Simons. "We are serving new audiences and expanding our reach all the time."
He serves as an officer of several heritage organizations in the United States, UK, and beyond, including:
President of the International Congress of Genealogical and Heraldic Sciences (a biennial international conference to be hosted by NEHGS in Boston in 2024 with the theme of "Origins, Journeys, Destinations")
President of the American Friends of St. George's Chapel, Windsor Castle, UK.
Immediate past Secretary of the Board of The New England Quarterly, the premier journal of New England's cultural, literary, political, and social history.
In addition, he served as Vice Chair of the Plymouth 400th Anniversary State Commission and as a member of the Commission to Investigate the Seal and Motto of Massachusetts, both by special appointment of Massachusetts Governor Charles D. Baker.
An award-winning author, Simons's most recent book, Boston Beheld: Antique Town and Country Views, was hailed as "the book Jane Austen might have written had she run into Charles Dickens after his return from his Boston visit of 1842." He is also the author of Witches, Rakes, and Rogues, a popular anthology in nonfiction Boston history, and various genealogical and historical monographs and articles.
A graduate of Boston University, he is a member of the American Antiquarian Society; the Society of the Cincinnati (CT); the Society of Colonial Wars (MA and FL); Honorary Fellow of the Massachusetts Historical Society; and a Proprietor of The Boston Athenæum. An avid genealogist, collector, and antiquarian, Simons enjoys travel, gardening, and nonprofit volunteering.