"I believe in philanthropy and by being a life member of NEHGS, I am able to provide consistent support to the organization that gives so much back to me. NEHGS represents the very best in genealogy and it is my privilege to be a part of it in this way."

—NEHGS Life Member Nancy Maulsby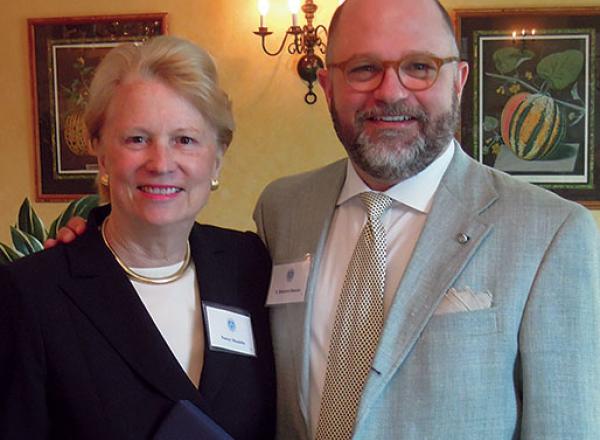 For family history enthusiasts who have made a lifelong commitment to pursuing the discovery, documentation, and sharing of their genealogy, NEHGS offers Life Memberships customized to meet your needs. As a community of some of the Society's most dedicated supporters, Life Members play a key role in supporting our mission to advance the study of family history in America and beyond.
Life Members and Life Benefactors are closely involved with the NEHGS mission to advance the study of family history in America and beyond. With personal account managers, Life Members and Life Benefactors have special access to NEHGS experts and scholarship and enjoy exclusive benefits.
For Life Members who want to share their lifelong commitment to genealogy with their spouse, we now offer Life Membership for couples. Spouses may be added to your Life Membership for half-off the regular price and enjoy all the benefits of Life Membership with you.
To learn more about Life Membership, contact our Member Services team at membership@nehgs.org or 1-888-296-3447.
Life Membership ($5,000 one time)
Access to over 1.4 billion searchable names on AmericanAncestors.org
Quarterly delivery of the magazine American Ancestors and The Register, the flagship journal of American genealogy
10% discount on online courses
20% discount off the subscription price to Mayflower Descendant: A Journal of Pilgrim Genealogy & History
$100 discount on Personal Genealogist for the Day consultation session
Free admission to the NEHGS Research Center
Standard access to American AncesTREES, an online family tree program
Save up to 30% off the best available rate at participating hotels reserved through HistoricHotels.org and HistoricHotelsWorldWide.com
Exclusive discount on a one-year subscription to Family Tree Magazine
and
No longer responsible for annual dues
3.5-hours of expert assistance (may be applied toward a consultation or research-for-hire)
Sterling silver Life Member lapel pin
Personalized Life Member Certificate reproduced from NEHGS historical archives
$30/hour discount on research-for-hire
$30/hour discount for consultations
Priority registration for all education programs
Exclusive invitations to special events
20% discount on books published by NEHGS (some restrictions and exclusions apply)
1-year Family level gift membership to give to the friend or family of your choice ($119.95 value)
Pilgrim Quadricentennial Life Membership ($5,500 one time)
All of the benefits of Life Membership, plus
An 11 x17 personalized commemorative Pilgrim Quadricentennial Life Membership certificate (frame not included)
A two-year subscription to Mayflower Descendant: A Journal of Pilgrim Genealogy & History, beginning in 2021
A gift set containing a Mayflower 2020-embossed journal bound in soft tan leather with lined paper and a ballpoint pen featuring the 2020 logo
A beautiful red lacquered mahogany wood and ceramic keepsake box with an iconic Mayflower 2020 American Ancestors design, size 5.125" square with a 4.25" tile top. This box is lined in soft white felt to protect your jewelry, keepsakes and other collectibles.
Life Benefactor Membership ($7,500 one time)
Access to over 1.4 billion searchable names on AmericanAncestors.org
Quarterly delivery of the magazine American Ancestors and The Register, the flagship journal of American genealogy
10% discount on online courses
20% discount off the subscription price to Mayflower Descendant: A Journal of Pilgrim Genealogy & History
$100 discount on Personal Genealogist for the Day consultation session
Free admission to the NEHGS Research Center
Standard access to American AncesTREES, an online family tree program
Save up to 30% off the best available rate at participating hotels reserved through HistoricHotels.org and HistoricHotelsWorldWide.com
Exclusive discount on a one-year subscription to Family Tree Magaziney Tree Magazine
and
No longer responsible for annual dues
3.5-hours of expert assistance (may be applied toward a consultation or research-for-hire)
Sterling silver Life Member lapel pin
Personalized Life Member Certificate reproduced from NEHGS historical archives
$30/hour discount on research-for-hire
$30/hour discount for consultations
Priority registration for all education programs
Exclusive invitations to special events
20% discount on books published by NEHGS (some restrictions and exclusions apply)
1-year Family Gift Membership to give to the friend or family of your choice ($119.95 value)
Complimentary admission to our popular "Come Home to New England" program at our Research Center in Boston