Read the 2020 Annual Stakeholder Report
This Annual Stakeholder Report encompasses our institutional accomplishments of the last year, and announces exciting upcoming projects.
Our giving societies and circles (pp. 46-58), named after historic figures from our membership who embraced the goals and objectives of our work, include two Presidents, a First Lady, a Prime Minister of Great Britain, several statesmen, a famous nineteenth-century author, and distinguished genealogical figures.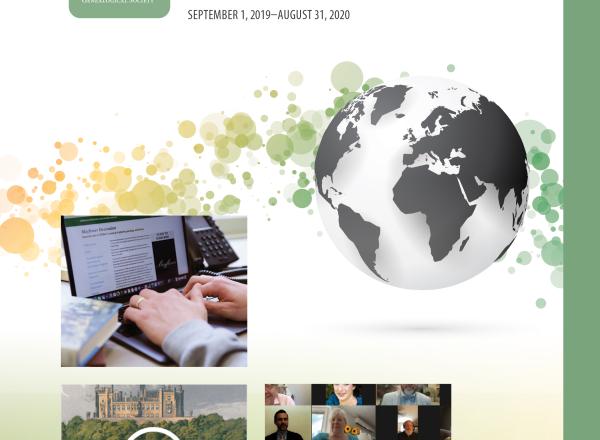 Governance—Council of the Corporation
Officers
Chair
David M. Trebing (DC)
Vice Chair
Thomas Bailey Hagen (PA)
Second Vice Chair
Bonnie A. Reilly (IN)
Treasurer
John E. Corcoran (MA)
Secretary
Jo Anne C. Makely (MA)
Corresponding Secretary
Sarah E. Gunderson (TX)
President and CEO, Ex Officio
D. Brenton Simons (MA)
Clerk of the Corporation
Ryan J. Woods (MA)
Board of Trustees
Class of 2022
| | |
| --- | --- |
| Nordahl L. Brue (FL) | Olivia Hood Parker (MA) |
| Mark T. Cox, IV (VA) | Elizabeth McCaslin Passela (TX) |
|   | Nancy Clay Webster (NE) |
Class of 2023
| | |
| --- | --- |
| Sumner E. Anderson (NY) | Stephen J. McCarthy (MA) |
| M. David Sherrill (NY) | Eric N. Ward (MA) |
|   |   |
Class of 2024
| | |
| --- | --- |
| Gerard A. Halpin, III (NY) | John S. Rando, Jr. (MA) |
| Brenda L. Johnson (MN) | Helen E.R. Sayles (MA) |
| Mark Kimball Nichols (MA) | Elizabeth B. Vitton (CT) |
Councilors
Class of 2022
| | |
| --- | --- |
| Vernard I. Adams (FL) | Gary P. Kearney (MA) |
| Robb Aley Allan (FL) | Carol McGee (IL) |
| Margaret Aycinena (CA) | Marilyn A. Moffitt (CA) |
| Richard D. Batchelder Jr. (MA) | Robert Russell Perry (WI) |
| Helen H. Berkeley (NY) | Pamela J. Pescosolido (MA) |
| Richard J. Cellini (MA) | Laura Dean Ramsay (AL) |
| Francis de Marneffe (MA) | Patricia R. Reed (CO) |
| Cheryl L. Edwards (VA) | Peter M. Small (MA) |
| Thomas F. Gede (CA) | Lionel B. Spiro (MA) |
| Arthur M. Geoffrion (CA) | Edward J. Sullivan (MA) |
| James R. Goetschius (FL) | Jane B. Tatibouet (HI) |
| Deborah Campbell Hale (MA) | Mary M. Tedesco (MA) |
| Beverly L. Hamilton (CA) | Kathleen Van Demark (MA) |
| Beverly M. Hector-Smith (MA) | Brenda M. Williams (MA) |
| Marjorie Turrell Julian (NY) | Dale Ellen Yoe (MD) |
|   | Gwill York (MA) |
Class of 2023
| | |
| --- | --- |
| Michael F. Aylward (MA) | Gregory G. O'Brien (MA) |
| Susan E. Carlson (WA) | Hans F. Olsen (CT) |
| Marc E. Chardon (WA) | Jennifer Francis Piña (CA) |
| Howard E. Cox (MA) | Julia K. Schmolke (MN) |
| Lea Sinclair Filson (MA) | Roger T. Servison (MA) |
| Daphne Palmer Geanacopoulos (VA) | David N. Smith (AZ) |
| Brantley Carter Bolling Knowles (VA) | Diana M. Smith (AZ) |
| Virginia Whitman Koster (NH) | Tracy E. Smith (FL) |
| Rebecca Howard Madsen (NY) | Marjorie P. Snelling (PA) |
|   | Thomas R. Wilcox, Jr. (CT) |
Class of 2024
| | |
| --- | --- |
| Gina Mazzei Anderhub (FL) | Keli D. Levine (CT) |
| Russell E. Burke, III (NY) | William F. Locke (NY) |
| Sara Stewart Champion (CT) | Sally A. MacKenzie (PA) |
| Jane M. Conlan (NC) | Sarah Hagen McWilliams (VA) |
| Maureen Quinn Dwyer (PA) | Ailsie Baker McEnteggart (CA) |
| William Edmund Fahey (NH) | Kathryn Hicks Porter (AL) |
| John M. Fleming (CA) | David E. Rencher (UT) |
| Bill Griffeth (NJ) | Ellen C.L. Simmons (TX) |
| Gregg W. Hawes (MD) | Alexandra Esty Stocker (MA) |
| James F. Hunnewell, Jr. (MA) | Steven T. Watson (Hong Kong and VT) |
| Joseph Swan Junkin (MA) | Brian White (IL) |
| John F. Keane (MA) | Albert J. Zdenek, Jr. (NY) |
Honorary Trustees
| | |
| --- | --- |
| Bruce R. Bartlett (CA) | Kenneth E. Haughton (CA) |
| John G.L. Cabot (MA) | Robert F. Hendrickson (NJ) |
| Stephen H. Case (MD) | James Thomas Larkin (CT) |
| Ralph J. Crandall (NY) | Peter S. Lynch (MA) |
| William M. Crozier, Jr. (MA) | Linda A. Pescosolido (CA) |
| William M. Fowler, Jr. (MA) | Frank C. Ripley (VA) |
| Judith Waite Freeman (LA) | Stacy Schiff (NY) |
| Donald R. Friary (MA) | Meriwether C. Schmid (CT) |
| Henry Louis Gates, Jr. (MA) | Eric B. Schultz (MA) |
| Priscilla C. Greenlees (WA) | Alvy Ray Smith (CA) |
| Judith Huber Halseth (MI) | Lynn Trowbridge (CA) |
| Virginia M. Hamister (OH) | Justin L. Wyner (MA) |
|   |   |