An award-winning publication
American Ancestors is a unique, full-color magazine that comes out four times a year, and offers compelling information for family historians of all levels. Features cover useful genealogical sources, helpful research strategies, compelling historical accounts, and interesting case studies. American Ancestors is a benefit of membership starting at the Individual level, as both a print publication and an online PDF.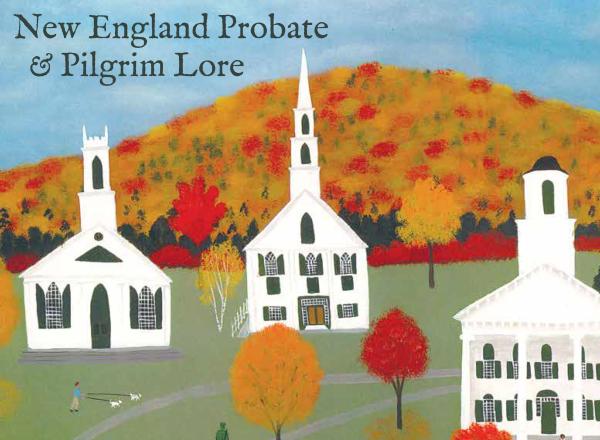 Winter 2023 issue now available
The new issue of American Ancestors focuses on reaching the next generation of genealogists, along with articles including the surprising origins of a colonial New Jersey family, the story of an all-woman group of deportees who settled on the Gulf Coast, a look from our collections at one of America's oldest grocery stores, and much more.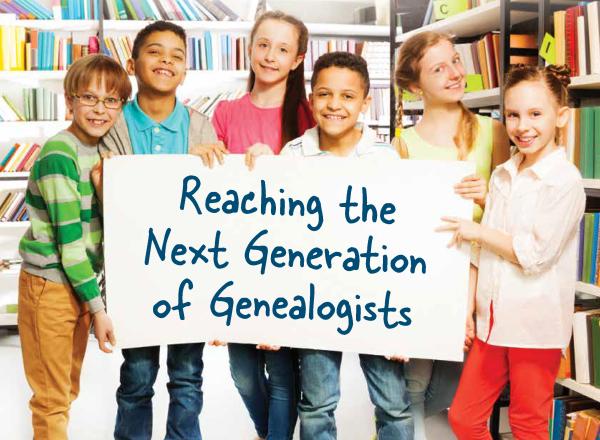 Preview the latest issue
Volume 23, Number 4, Winter 2023
Reaching the Next Generation of Genealogists: Introducing the American Ancestors Family History Curriculum
| | |
| --- | --- |
| A Message from Our President & CEO | Staff Profile |
| In This Issue | Obituaries |
| Branches of Our Family | Staff List |
| News | Family Focus |
| Programs & Tours |   |
Features
Reaching the Next Generation of Genealogists: Introducing the American Ancestors
Family History Curriculum
Dustin Axe

A Shipload of Women: When French Convicts Were Deported
to the Gulf Coast
Joan DeJean

The Surprising Origins of the Coryell Family of Colonial New Jersey
Lea Coryell, Michael Waas, and Adam Brown

So Far from Home: A Treasure Trove of Irish Immigrant
Correspondence
Jean Powers and Patricia O'Malley
Columns
Genetics & Genealogy
Samuel1 Walker, Kinsman of Captain Richard1 Walker
Eugene Allen Walker

Focus on New York
Research in Smithtown, Suffolk County, New York
Henry B. Hoff, CG, FASG

Research Services Case Files
The Ties That Bind: The Skinner & Mason Families
Michelle Norris

From Our Collections
Working at Stop & Shop, One of America's First Supermarkets
Gerald W. R. Ward and Lynn Betlock

Manuscripts @ NEHGS
The Earl Morgan Savage Photograph Collection
Judith Lucey

Wyner Family Jewish Heritage Center Spotlight
Safe Haven: Chateau de Mehoncourt, Le Mans, France
Stephanie Call
Access the members-only archive
Download past issues
You can access and download all past issues of American Ancestors magazine from 2010 to present with your American Ancestors/NEHGS membership.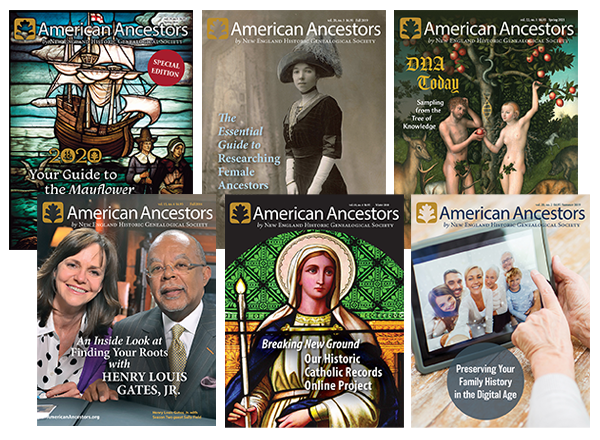 Search past magazine issues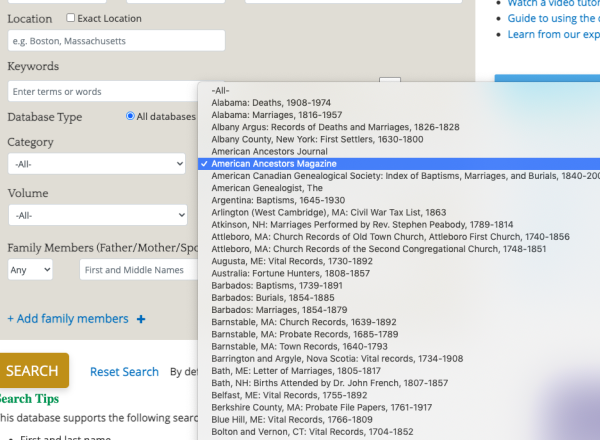 LETTERS AND FEEDBACK
Email letters to magazine@nehgs.org or American Ancestors magazine, 10 Newbury Street, Boston, MA 02116. We regret that we cannot reply to every letter. Published letters will be edited for clarity and length.
Have you hit a brick wall in your research?
We seek stories of members' most challenging "brick walls" for publication in American Ancestors. Send your story to magazine@nehgs.org. Please limit your submissions to 200 words or less; include your name and American Ancestors/NEHGS member number. We regret that we cannot publish or respond to every submission. Published submissions will be edited for clarity and length.
SUBMIT A BOOK NOTICE
American Ancestors is pleased to list members' recently published family history and source records publications. Books must be published within twelve months of the date of submission. In order to have a book listed in American Ancestors, please provide the following:
NEHGS member #
Section (choose one) Genealogies or Other Books
Subject
Title
Author/editor/compiler
Place of publication
Publisher/self-published
Year of publication
Hardcover/softcover
Price
Page count
Specify if index, illustrations or appendixes are included
Description of book in 25 words or less
Contact/ordering information
To place your listing, email magazine@nehgs.org.
FAMILY ASSOCIATIONS AND DNA STUDIES IN PROGRESS
Family association events and DNA Studies in Progress are announced free for NEHGS members on a space-available basis. (The same notice will be published only once per year.) Event notices should be submitted at least six to nine months prior to the event date. To submit your brief notice (75 words or less), email: magazine@nehgs.org with "Family Associations" or "DNA studies in progress" in the subject line.
SUBMIT AN ARTICLE
For information on writing and submitting an article to American Ancestors, please click here to review our writer's guidelines.