Executive Office
Ryan J. Woods
Executive Vice President & Chief Operating Officer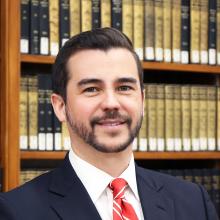 Ryan J. Woods has served in executive management positions at American Ancestors / NEHGS for more than fifteen years. He is the Executive Vice President and Chief Operating Officer of our organization as well as Clerk of the Corporation. In his roles, he provides executive oversight for the day-to-day operations for our 100 staff members and seventeen activity areas including content and collection development, web services, publishing activities, research services, educational programming, financial operations, facilities management, marketing strategies, and business planning.

He has played a key role in developing services and experiences to meet twenty-first-century research and information access requirements. He was the lead creator of AmericanAncestors.org, our award-winning website and the most-used genealogical society website in the world. He has fostered and managed important collaborations with commercial and nonprofit partners, including overseeing the recruitment of more than 1 billion searchable records to AmericanAncestors.org, and he was a lead staff member in the collaborative effort to establish our Jewish Heritage Center. Currently, Ryan is focused on partnerships, and business planning for our headquarter expansion and the creation of a national visitor destination experience.

A dedicated researcher, Ryan has authored pedagogical articles about the use of historical biographies to teach character and ethics. He has also contributed genealogical articles and several book forewords for historical and genealogical publications; he regularly presents at national historical and genealogical conferences and events.
Prior to joining American Ancestors/NEHGS, he held several key positions at other cultural and historical institutions, including most notably the National Archives and Records Administration (NARA). During his tenure with NARA, Ryan's work was recognized by the Speaker of the United States House of Representatives and members of the United States Senate. He also received the Archivist of the United States' Award for Outstanding Public Service.
Ryan serves on several nonprofit boards and committees, including the Committee on Heraldry, the Society of the Cincinnati in the State of Connecticut, the Society of Colonial Wars in the Commonwealth of Massachusetts, Plymouth 400, the Mayor of Boston's Green Ribbon Commission, and the Boston University School of Education Alumni Association. He is also an active member of the Most Venerable Order of the Hospital of Saint John of Jerusalem, the Colonial Society of Massachusetts, the Massachusetts Society of Mayflower Descendants, the Society of Colonial Wars in the State of Florida, the Sons of the Revolution in the Commonwealth of Massachusetts, and the Saint Nicholas Society of New York City.
Ryan, who was raised along Lake Champlain in Vermont, holds undergraduate and graduate degrees in history and education from Boston University. 

He and his family---wife, Karen; son, Nathaniel; and daughter, Abigail---are ardent supporters and frequent visitors at cultural institutions in greater Boston; they are patron members of the Massachusetts Audubon Society, Boston Symphony Orchestra, the Boston Children's Museum, Plimoth Patuxet Museums, the Trustees of the Reservations, and Zoo New England.