Writing History: Extended Discussion and Q&A with Stacy Schiff
November 29, 2022
7:30 p.m. - 8:15 p.m. ET
Presented in partnership with the Massachusetts Historical Society and Porter Square Books
Moderators:
Ryan J. Woods
EVP and COO American Ancestors/NEHGS
Catherine Allgor
President of Massachusetts Historical Society
The celebrated author of award-winning histories discusses the craft of writing, sharing her insights on researching and revealing the past.
Following her Zoom Webinar public talk, Stacy Schiff will engage in further conversation and exploration – answering your questions about her inspirations, research, and process behind writing The Revolutionary: Samuel Adams and her other works of history. Separate Registration is required to attend both events.
Your copies of The Revolutionary: Samuel Adams will be signed by the author. You may request personalization, and Stacy Schiff will add any name you choose—yours, a family member's, or a friend's.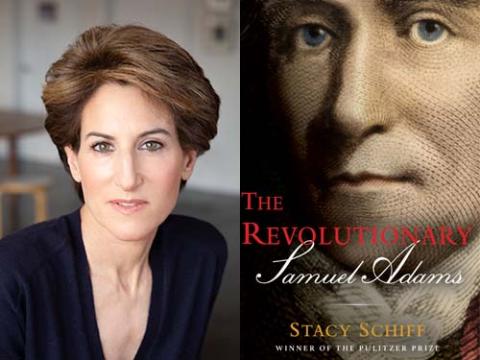 Stacy Schiff is the author of Véra (Mrs. Vladimir Nabokov), winner of the Pulitzer Prize; Saint-Exupéry, a Pulitzer Prize finalist; A Great Improvisation: Franklin, France, and the Birth of America, winner of the George Washington Book Prize and the Ambassador Book Award; Cleopatra: A Life, winner of the PEN/Jacqueline Bograd Weld Award for biography; and most recently, The Witches: Salem, 1692. Schiff has received fellowships from the Guggenheim Foundation, the National Endowment for the Humanities, the American Academy of Arts and Letters, and the Center for Scholars and Writers at the New York Public Library. A member of the American Academy of Arts and Letters and named a Chevalier des Arts et Lettres by the French Government. She is an elected Honorary Trustee of American Ancestors/NEHGS.
Ryan J. Woods is Executive Vice President & Chief Operating Officer of American Ancestors/New England Historic Genealogical Society and is an appointed member of the Special Commission for the 250th Anniversary of The American Revolution in the Commonwealth of Massachusetts.
Catherine Allgor is the president of the Massachusetts Historical Society. She was previously the Nadine and Robert Skotheim Director of Education at the Huntington Library in San Marino, CA. She is also a former Professor of History and UC Presidential Chair at the University of California, Riverside.