Research and Library Services
Lindsay Fulton
Vice President of Research and Library Services
Lineage Societies
Research Methodology
Census Records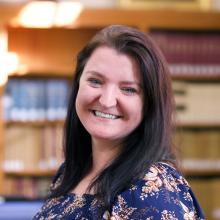 Lindsay Fulton is a nationally recognized professional genealogist and lecturer who joined American Ancestors/NEHGS in 2012, first as a Researcher and then as a Genealogist; now she leads the Research and Library Services team as Vice President. In addition to helping constituents with their research, Lindsay has also authored a Portable Genealogists on the topics of Applying to Lineage Societies, the United States Federal Census, 1790-1840 and the United States Federal Census, 1850-1940. She is a frequent contributor to the NEHGS blog, Vita-Brevis, and was featured in the Emmy-Winning Program: Finding your Roots: The Seedlings, a web series inspired by the popular PBS series "Finding Your Roots with Henry Louis Gates, Jr.  Before, NEHGS, Lindsay worked at the National Archives and Records Administration in Waltham, Massachusetts, where she designed and implemented an original curriculum program exploring the Chinese Exclusion Era for elementary school students. She holds a B.A. from Merrimack College and M.A. from the University of Massachusetts-Boston.
Area of Expertise: State and Federal Censuses, New England, Ireland, and New York research, with a focus on lineage society applications. Some of which include: Jamestowne Society, General Society of Mayflower Descendants, Sons of the Revolution, National Society Daughters of the American Revolution and National Society Sons of the American Revolution, General Society of Colonial Wars, Society of the Cincinnati, Baronial Order of Magna Charta, and the National Society of the Colonial Dames of America.
You can reach Lindsay at lindsay.fulton@nehgs.org or 617-226-1242.