Commemorate the journey that changed the world
American Ancestors is offering a special Pilgrim Quadricentennial Life Membership to commemorate the 400th anniversary of the Mayflower landing. This new Life Membership helps support our important nonprofit mission to advance the study of family history in America and beyond by educating, inspiring, and connecting people through scholarship, collections, and expertise.
For $5,500 ($3,515 eligible for tax deduction), you will receive exclusive benefits (pictured above) that are not available through any other American Ancestors Life Membership!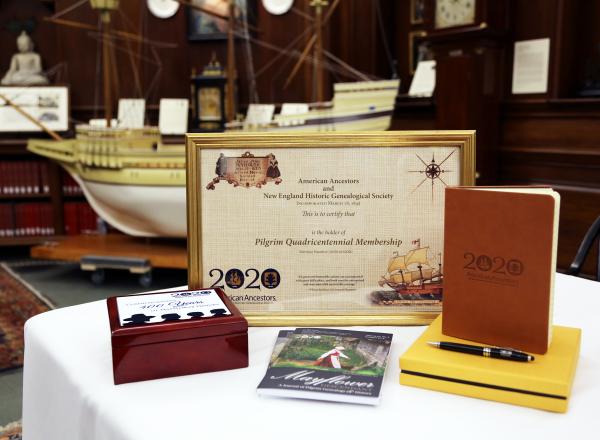 Exclusive Benefits of Pilgrim Quadricentennial Life Membership
An 11 x17 personalized commemorative Pilgrim Quadricentennial Life Membership certificate (frame not included)
A two-year subscription to the Mayflower Descendant: A Journal of Pilgrim Genealogy & History, beginning in 2020
A gift set containing a Mayflower 2020-embossed journal bound in soft tan leather with lined paper and a ballpoint pen featuring the 2020 logo
A beautiful red lacquered mahogany wood and ceramic keepsake box with an iconic Mayflower 2020 American Ancestors design, size 5.125" square with a 4.25" tile top. This box is lined in soft white felt to protect your jewelry, keepsakes and other collectibles
Life Member Benefits
No longer responsible for annual dues
3.5 hours of expert assistance (may be applied toward a consultation with a genealogist or research-for-hire)
$30/hour discount on expert consultations and research-for-hire
20% discount on books published by NEHGS
Priority webinar and event registration
1-year Family Gift Membership to give to the family of your choice ($119.95 value)
Sterling silver Life Member lapel pin
Personalized Life Member Certificate reproduced from NEHGS historical archives
To become a Pilgrim Quadricentennial Life Member please contact our Member Services team at membership@nehgs.org or 888-296-3447 (choose option 1) for more information.