Work side-by-side with a genealogist on your family history
Our Boston headquarters will be closed to visitors as of Saturday, March 25, 2023, to renovate, improve, and expand our facilities. Our staff will continue to serve our members remotely.
Improvements to our current headquarters, and the launch of our exciting new facility at 97 Newbury Street, will allow us to better serve our members and the public. 
We're very excited about these upcoming changes and look forward to opening our new and renovated facilities in 2024!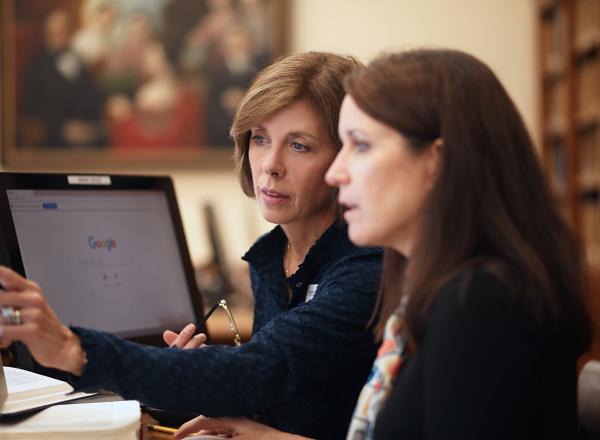 Take your research to the next level with our Personal Genealogist for the Day service. An American Ancestors genealogist will work side by side with you, either online via Zoom or in-person at the American Ancestors Research Center, to guide you through databases, records, and to help advance your own family research.
This service includes a preliminary review of your family history and a dedicated session of guidance and record-searching. 3-hour (half day) and 5-hour (full day) sessions are available. Online sessions may include recordings for you to keep and review later.
With our in-person sessions, if appropriate, our experts may also accompany you to local repositories such as the Boston Public Library, the Massachusetts State Archives, or the Massachusetts Registry of Vital Records and Statistics.
 
Research/Contributing Members
(Join or Renew Today)
Guests
VIRTUAL 2-hour session
$300
$400
VIRTUAL 4-hour session
$600
$700
Complete and submit the form below, and our staff will contact you to help you decide if the Personal Genealogist for the Day is a good option for you and your project. If you prefer to arrange over the phone, call 1-888-296-3447 (choose option 1).