Jonathan Eig with King: A Life
June 20, 2023
6:00 p.m. - 7:00 p.m. ET
Free
In partnership with Boston Public Library, Museum of African American History, and GBH Forum Network
Moderated by Peniel Joseph, Professor and Founding Director of the Center for the Study of Race and Democracy, The University of Texas at Austin
King mixes revelatory and exhaustive new research with brisk and accessible storytelling to forge a deeper understanding of "the leader, the preacher, the orator, the husband, the father, the martyr, the human being…in all his heroic, tragic Glory. Hallelujah!" (Ken Burns)
King: A Life is the first major biography in decades of the civil rights icon Martin Luther King Jr. Bestselling biographer Jonathan Eig gives us an intimate view, casting fresh light on the King family's origins as well as MLK's complex relationships with his wife, father, and fellow activists. In this remarkable account of our only modern-day founding father, we gain an MLK for our times: a deep thinker, a brilliant strategist, and a committed radical who led one of history's greatest movements. Join us for Eig's presentation and discussion with Peniel Joseph, one day after the Juneteenth holiday.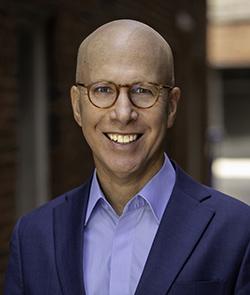 Jonathan Eig is the bestselling author of Ali: A Life, winner of a 2018 PEN America Literary Award and a finalist for the Mark Lynton History Prize. He also served as a senior consulting producer for the PBS series Muhammad Ali. His first book, Luckiest Man: The Life and Death of Lou Gehrig, won the Casey Award. Eig's books have been listed among the best of the year by The New York Times, The Washington Post, and The Wall Street Journal.
Peniel E. Joseph is the Barbara Jordan Chair in Ethics and Political Values, Founding Director of the Center for the Study of Race and Democracy, and Associate Dean for Justice, Equity, Diversity, and Inclusion at the LBJ School of Public Affairs and Professor of History at the University of Texas at Austin. He is the author of The Sword and the Shield and Stokely: A Life, and, most recently, The Third Reconstruction.