Discover family history with your students, historical society, and more
Bring your group to the American Ancestors Research Center! Our expert staff can provide orientations and tours of the research center, customized presentations, free student programming, and more.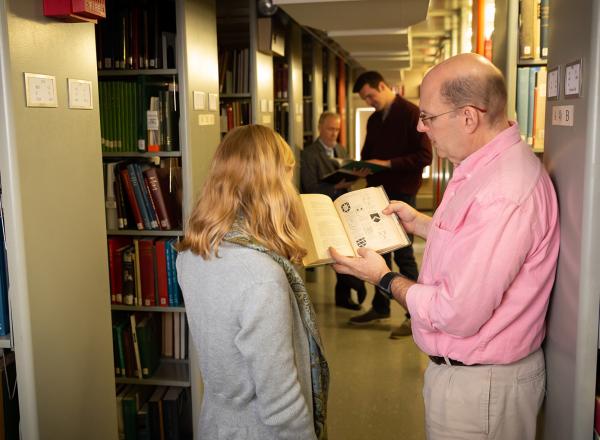 Historical Societies, Genealogical Societies, and more
We welcome visits from genealogical societies, historical societies, and other organizations to the American Ancestors Research Center at 99-101 Newbury Street in Boston, MA. Our staff can provide an orientation and tour of the research center, as well as customized presentations about our resources, website, collections, or other special topics as needed. Non-members of American Ancestors who visit with a group receive a special discounted day fee rate of $15.
Group capacity is 25 people. Please provide at least one month's notice before bringing a group of ten people or more to the library. Group visits occur during regular library hours (Tues, 9-1; Wed.-Sat. 9-5) and may be limited due to special events at our Research Center.
School Groups
A visit to our 8-story library and archives at 99-101 Newbury Street in Boston, MA puts millions of unique family history resources at students' fingertips—for free! See below for program descriptions. Program reservations must be made at least 6 weeks in advance. Maximum class size is 25.
Family History Detectives (grades 3-5)
Length: 2 hours
Unlock the mystery of a family's past! In this program students will learn how genealogists trace families back in time using clues found in historic records, interviews, photographs, and DNA. Together, students will solve genealogical mysteries through engaging hands-on-activities, basic research methods, and deductive reasoning. Tools will be provided for students to apply these sleuthing skills to their own family history.
Archivist for a Day (grades 3-5)
Length: 2 hours
Come face to face with the documents, photographs, and artifacts of the past! Students will learn to think like an archivist to handle, categorize, examine, and interpret history through letters, maps, photographs, and 3D artifacts. This program can also be adapted for grades 6 to 8.
Genealogy 101 (grades 6-12)
Length: 3 hours
After a brief overview of genealogical principles and practices, students will have access to the thousands of published volumes, online databases, and expert assistance at the NEHGS Library and Archives to complete a multi-generational chart or write about their ancestral homelands. Through this program students will apply critical thinking skills as they compare documents and stories, understand primary and secondary sources, have a deeper appreciation of American and world history, and have an enhanced sense of self-awareness. Some pre-visit work required.
Can't visit us? Our genealogists can adapt these programs for presentation in your classroom (travel expenses apply).